At Plympton Tyrepower, you will find a great range of aftermarket accessories for your 4WD. Located in Plympton, we supply and install 4WD accessories from quality, leading brands that are suited to most makes and models.
We can supply and fit a wide range of accessories from big brands such as Tough Dog.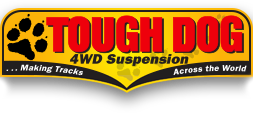 Tough Dog are an Australian company who have been building parts and accessories since 1985.
With a product range that includes shock absorbers, GVM upgrade kits, suspension bushings, fabricated control arms, castor and geometry correction kits, they have products to not only increase the capabilities of your rig, but also make it more reliable and comfortable too.
Tough Dog design and manufacture a wide suite of products to suit the most popular 4X4s on the market including Landcruisers, Patrol, Hiluxes, D-Maxs, BT-50s and Rangers.
Our experienced and qualified mechanics offer their 4WD accessories and installation services to those in Plympton, Camden Park, Netley, Glandore, Glenelg and Kurralta Parl and are located at 91 Mooringe Avenue, Camden Park. From bull-bars, front and rear bumpers, cruise control systems and battery monitors and gauges, Plympton Tyrepower has you covered for all your 4WD accessories.
Call us today on 08 7084 2424 to find out more about our great range of 4WD accessories.